Recipient of "ENERGY AND ENVIRONMENT FOUNDATION GLOBAL AWARDS"
Recognition and Awards Program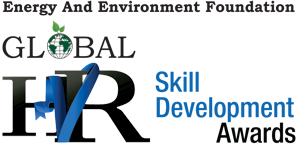 16th - 17th FEBRUARY 2022 | NEW DELHI, INDIA
Global HR Skill Development Awards organised by the Energy And Environment Foundation shall recognise and honour outstanding organisations that are taking responsibility for defining a social and business commitment by adding value based on the best HR skill development practices for enhancing higher skill development, life cycle skill upgradation and promoting sustainability and excellence that delivers a shared future for all stakeholders through corporate and social commitment. The Awards shall focus on excellence in learning and skill development in order to significantly advance continued workforce productivity, performance and safety.
» Skill Development
» Talent Management
» Change Management
» Employee Engagement
» Compliance Training
» Leadership Training
» Business-Led Youth Training
» New Initiatives for Excellence in Learning
» Best Practices and Best Assessment Tools
Encourage & motivate to adopt best practices and become role model for others to emulate. Encourage implementation of strategies for continued improvement in operation standards.
These Awards are open for Nomination from all Sectors / Corporate, Public & Private Sectors, Large, Medium, Small Scale Industrial / Service Sector Companies / Organizations. Academic Institutions are also eligible for participation in the award.
Application
Energy And Environment Foundation Global HR Skill Development Award's Application Form and Rules & Regulations can be obtained by sending request by email to dranilgarg2011@gmail.com.
Evaluation of nominations for Global HR Skill Development Awards is an intensive process. Nominations are evaluated by the Jury - experts from Government, Academia and Industry.
Submission of Application
Global HR Skill Development Award's application complete with all information and documents alongwith applicable processing fee should reach Secretariat in soft (MS world file) and hard form (printed copy by post) on or before November 30, 2021
» Preliminary evaluation of nominations.
» Mandatory Oral Presentation with original documents by all short-listed nominee company/units in presence of Jury members constituted by Energy And Environment Foundation.
» Site visit of short-listed companies / units, whenever feasible.
» Award Declaration
It is appreciated if winners of the awards shall display the capability and expertise of the company in the form of exhibits. A shell space will be available for display your project achievements to all participants, government officials, industry leaders and management institutes. Details available on request.
Processing Fee
| | |
| --- | --- |
| National | INR 65000 |
| International | US$ 1000 |
Service Tax extra
(Non-Refundable)
Payment
Account Number :
629705015384

Account Name :
Energy And Environment Foundation

Bank Name :
ICICI Bank
Mayur Vihar-I Branch, Delhi

Swift Code :
ICICINBBCTS

RTGS/NEFT/IFSC Code :
ICIC0006297