Recipient of "ENERGY AND ENVIRONMENT FOUNDATION GLOBAL AWARDS"
Recognition and Awards Program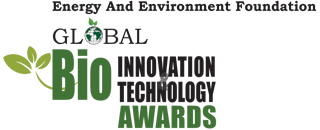 25th AUGUST 2022 | DELHI | INDIA
Global Bio Innovation & Technology Awards organised by the Energy And Environment Foundation shall recognise and honour outstanding organisations that are taking responsibility for defining a commercial future by adding value based on the ethics & values of corporate citizenship, transparent accountability, life cycle stewardship, strategic sustainability and conducting fair business in a disciplined manner that delivers a shared future for all stakeholders through commitment. The awards shall encourage and celebrate the responsible business movement across the globe.
» Innovative Practices Next Gen Technology
» Bio Banking
» Strategic Bio Initiatives
» Collaborative Bio Excellece
» Sustainable Bio-Energy, Bio Gas, Bio Fuels, Aviation Fuels, Fuel Cells
» Biomedical Research Bio Refineries
» Bio Based Chemicals
» Bio Solutions to Better Our World
» Value Addition to New Feedstocks & Agriculture Residues
Encourage & motivate to adopt best practices and become role model for others to emulate. Encourage implementation of strategies for improvement in operation standards. It gives morale boost to management, concerned team, employees and all stakeholders.
These Awards are open for Nomination from all Sectors, Corporates, Public (PSUs), Private, Large, Medium, Small Scale Industrial / Service Sector Companies / Organizations / Units and their team. Academic Institutions are eligible for participation in the award.
Application
Energy And Environment Foundation Global Bio Innovation & Technology Award's Application Form and Rules & Regulations can be obtained by sending request by email to dranilgarg2011@gmail.com.
Evaluation of nominations for Global Bio Innovation & Technology Awards is an intensive process. Nominations are evaluated by the Jury - experts from Government, Academia and Industry.
Submission of Application
Global Bio Innovation & Technology Award's application complete with all information and documents alongwith applicable processing fee should reach Secretariat in soft (MS world file) and hard form (printed copy by post) on or before June 30, 2022
» Preliminary evaluation of nominations.
» Mandatory Oral Presentation with original documents by all short-listed nominee company/units in presence of Jury members constituted by Energy And Environment Foundation.
» Site visit of short-listed companies / units, whenever feasible.
» Award Declaration
It is appreciated if winners of the awards shall display the capability and expertise of the company in the form of exhibits. A shell space will be available for display your project achievements to all participants, government officials, industry leaders and management institutes. Details available on request.
Processing Fee
| | |
| --- | --- |
| National | INR 65000 |
| International | US$ 1000 |
Service Tax extra
(Non-Refundable)
Payment
Account Number :
629705015384

Account Name :
Energy And Environment Foundation

Bank Name :
ICICI Bank
Mayur Vihar-I Branch, Delhi

Swift Code :
ICICINBBCTS

RTGS/NEFT/IFSC Code :
ICIC0006297